Skin disorders: How to cure skin diseases?
Our skin is the outward image of our inner health.
The skin concerns of our face tell us a lot about the health of our organs ...
"Our skin is the outer image of our inner health"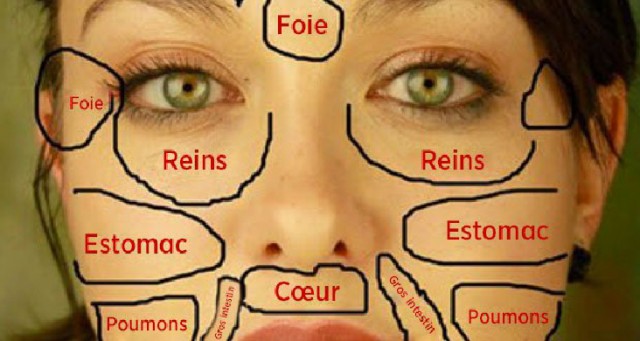 Where do skin problems come from?
Skin problems are linked to origins located far from the skin surface.
Traditional Chinese Medicine explains that each part of our face is directly connected to a specific organ in our body.
In the event of an organ problem, our face sends signals in the form of imbalances such as skin rashes, pimples, scabs, color changes, redness, etc.
Each area of the face corresponds to a specific organ
When a problem or an imbalance appears on our face, it is better to read and understand the origin of this aesthetic concern than to camouflage it with makeup. Our body is well made and we tend to forget to listen to it when it talks to us.
Let's learn to read our face
Each area of the face is linked to a very specific organ.
Each skin imbalance therefore warns us of a malfunction of the organ to which the area where the problem arose is connected.

The forehead = the small intestine and the bladder
The quality of the skin on the forehead will vary depending on the condition of our small intestine.
For example, a diet that is too rich in fat, in industrially prepared foods (such as canned foods) or processed foods (cooked meals, etc.), too much alcohol or sugar, will cause dryness of the skin of the face in this area.
Between the two eyebrows = The liver
During a liver attack, it is always here that we have pain and that rashes appear.
Under the eyes = The kidneys
The well-known "bags under the eyes" are a sign that the kidneys are very weak. They ask to be treated.
It is better to treat your kidneys than to have cosmetic surgery to remove the bags.
The same is true when that area becomes very gray or dark.
Drink water properly and avoiding caffeine, alcohol and carbonated drinks will help restore this imbalance.
The nose = the heart
Skin concerns around the nose indicate poor blood circulation, a bloated stomach, gas and that we breathe in a too polluted universe.
A red nose can appear when you have a diet too rich in red meats, cold meats and alcohol ... (However, check with your dermatologist that you do not suffer from rosacea / rosacea: persistent redness on the nose and cheeks, the effects of which are accentuated, among other things, by poor nutrition.)
The cheeks = the stomach
Too much sugar, too much fatty food, too much alcohol will cause stomach problems.
When rosacea is visible, if it's mild, your stomach is starting to weaken.
In the event of intense rosacea, this means that the weakness of the stomach has led to weakening of the lungs, which can lead to a weakening of the stomach. heart...
Lower cheeks = Lungs and large intestine
It is easy to understand the origin of the gray complexion of smokers' cheeks.
The chin = The kidneys = Gynecological area
It is very common for women to have breakouts a few days before their period starts.
The temples = The gall bladder
This area is very sensitive when there are major concerns about the gallbladder.
If it turns yellow or light green, it means that you have to go to the doctor quickly to do a blood test before having a big incident that occurs at this level.
Here is how to relieve slight imbalances with Géomer products
In the Laboratoire Géomer , we have designed specific products to be applied to these meridian areas and to act on the corresponding organs. This, among other things, thanks to the essential oils that compose them.
Please note, Géomer products are not suitable for replacing a medical prescription from your doctor.. But they help to very easily rebalance the slight skin imbalances.
For several years now, we have received many positive testimonials from users about results that go beyond the typical slight imbalances. These testimonials attest that Géomer skincare products, while not being drugs, help to effectively maintain and beautify our skin on a daily basis. For example, the regular use of Terral Rouge removes traces of rosacea on the face. The use of Terral Blanc in daily application allows a real deep hydration of the skin and increases the luminosity of this one.
The synergies of Géomer essential oils called Amplitudes are to be applied directly to the meridian zones corresponding to their number and their color (see details on the explanations of each Amplitude).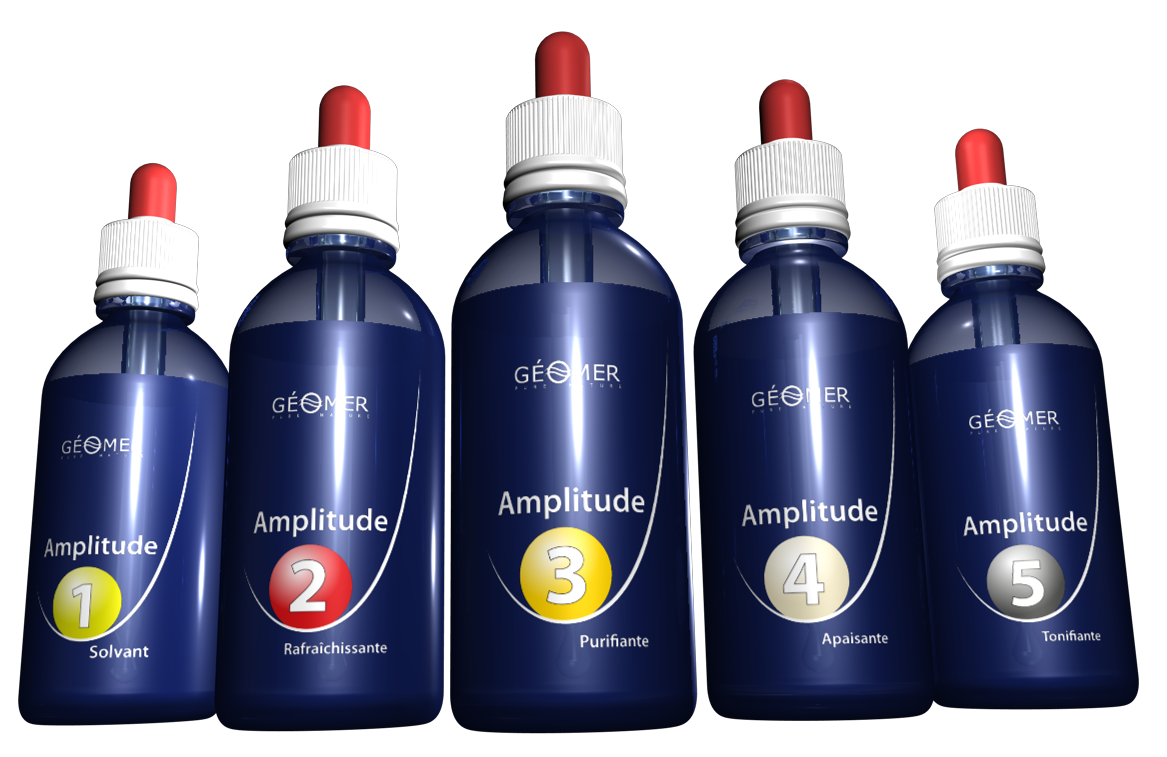 A few drops are enough!
Apply one or two drops to each affected area and massage to penetrate. They will act directly on the organs concerned via the blood vessels.
While the clay and essential oil masks called Terral Geomer will, thanks to their named action "lymphatic drainage", used in deeper care and purifying treated skin areas. Applications in a layer of 1 mm thick with a maximum dwell time of 5 to 10 minutes. Then clean and rinse.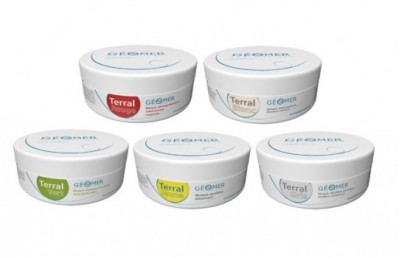 Example of a rebalancing energy treatment for the face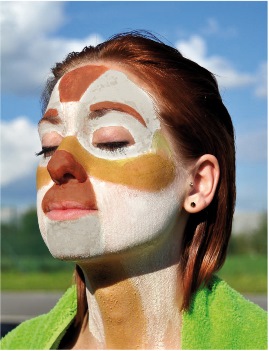 Apply the corresponding Terral to each specific area of the face and reconstitute the same mask as in the image above.
Leave on for 5 to 10 minutes maximum. Do not allow one of the 5 Terrals to dry. If an applied Terral dries too quickly, you can either top up the product or rinse it off.
After the pause time, remove the clays with a sponge and then rinse with lukewarm water.
You will feel complete well-being in your whole body because you will have rebalanced your 5 elements during a single facial treatment.
To regain glowing skin and a perfect complexion, repeat this treatment as many times as you want!
Personally, I recommend doing one, at a minimum, at each change of season.
Take good care of yourself.
Alain Ledroit,
CEO Laboratoire Géomer
Reiki Master Usui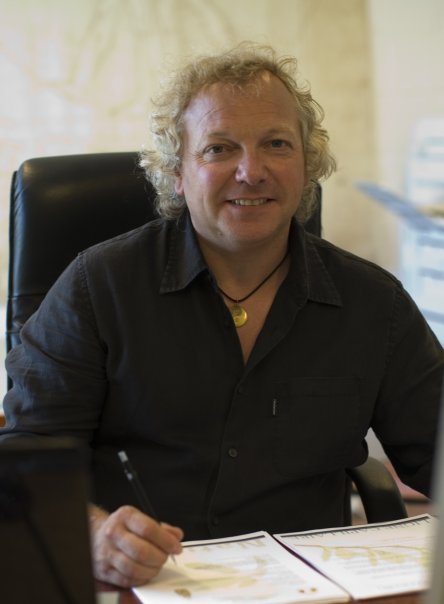 This article has interested you ?
Share it with your friends on social networks!
A question ?
CONTACT US BY CLICKING HERE >>
Tel France: +33185089191 or Tel Belgium: +3223181065