I wondered if one day I would be able to get rid of this ugly buffalo hump.
A bump on the upper back not at all aesthetic.
Bravo for this discovery concerning the bison hump
I was wondering if one day I will be able to get rid of this ugly bump ...
Today, it is almost done.
I did cryolipolysis on my stomach and asked the person who gave me this treatment if they could do a session on my bison hump.
It started but the suction cup made me suffer and after a few minutes I asked to stop. In addition his colleague told him that it was certainly bad to do a session there.
I couldn't find a solution.
I also thought about cosmetic surgery but I was scared and I didn't take the plunge.

So I gave up and resigned myself to keeping this ugly bump.
Then during a visit to my daughter on September 18, 2019, she noticed that my bump had grown and that something should really be done. She took a picture of it and showed it to me, because it must be said that even looking in a mirror, it is not easy to assess the problem.
I realized that it was really very ugly and that I was going to have to find an effective solution to get rid of it.
So I started looking at the solutions offered on the internet and I came across theGeomer article which explained that this phenomenon was due to blockage of lymph nodes.
I found the approach interesting and ordered the product Amplitude n ° 4 telling myself that I had nothing to lose by trying, but it was really half-hearted.
Around September 25, 2019, I started the applications accompanied by massage with an electric device because it is difficult to do it with the fingers yourself.
From October 1, 2019, 1 week after the start of treatment, the bump had diminished a little. See the photo below.
I persevered and was fortunate enough to go on vacation with my sister for 2 weeks during which she agreed to have a daily energetic bump massage with Amplitude n ° 4.
At the end of October 2019, those around me noticed that my bump had already diminished a lot.
To date, in early November 2019, after 5 weeks of treatment she has reduced by around 70 % and I hope that by Christmas it will be completely gone. It will be my gift!
I am really delighted.
thank you so much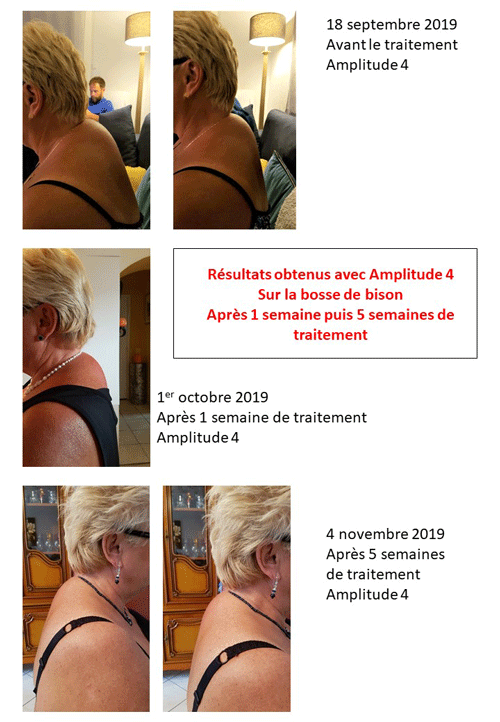 Ms. Dominique Martin-Touchard
95600 Eaubonne - France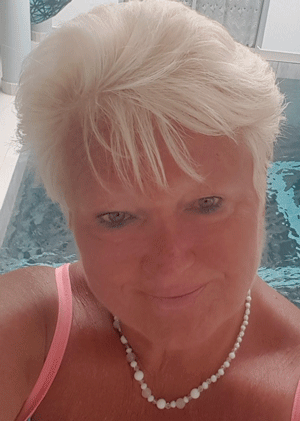 A question?
Or by Phone +33185089191