My hair had been bald for years
With Géomer, I have new hair that grows darker and thicker
To view the video testimony> click on the image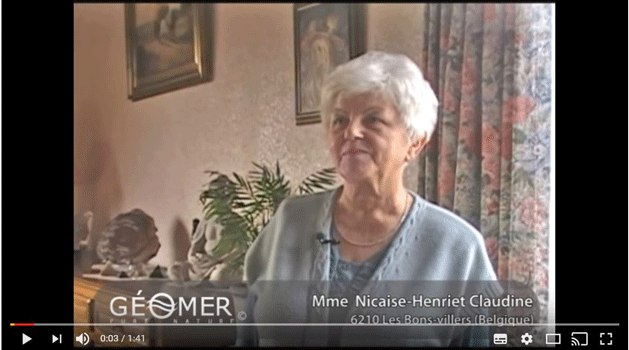 Claudine Nicaise followed the advice of her hairdresser and has Géomer products applied.
The results are unimaginable!
The hair is growing back to how it was when she was 20.
From a certain age, I was forced to notice that, like many women, I too began to lose my hair. The lack of volume, the hair that falls out or the lack of tone in the hairstyle very quickly resulted in the loss of my hair.
Like all women, I attach great importance to my hair, despite my age. I consider the hair to be an integral part of a lady's personality.
In order to fight against this fall that I did not want to be considered inevitable, I tried all kinds of treatments, the most diverse they are. These ranged from simple trace elements to the products recommended by my pharmacist, including these "miracle" products, the merits of which teleshopping programs relentlessly praise. None of these products helped me regain my hair from yesteryear, at best some helped the growth of existing hair.
As I started to lose hope, I let someone around me recommend Géomer products.
Today, I have been using products from the Géomer range for two years and I am fully satisfied with them. My hair loss is totally stopped and new hair has appeared.
So I started an anti-hair loss treatment with the Géomer brand two years ago, following the recommendations of a brand advisor. He diagnosed me with a fall of hormonal origin at the beginning which turned into deficiency with age. He therefore recommended a re-mineralizing treatment for deficiency loss. Geomer clay (gray Terral in winter and white Terral the rest of the year)
I apply this treatment once a week by combining it with a daily application of Oligo F3. As a shampoo, I use the one with very re-mineralizing algae that is "tailor-made" to me according to the seasons and the condition of my scalp.
Very quickly, I was able to notice a decrease in my hair loss. I currently no longer lose my hair, even during the usual fall season.
After less than 9 months of treatment, I had the opportunity to hear the first observations from those around me about the regrowth of my hair. it was beginning to show. New hair was growing back in mass, more and more voluminous
As crazy as it sounds, this new hair that grows back thanks to the treatment is not white, despite the fact that white has become my color with age. This new hair is the same color that I had when I was young, so the regrowth of new hair is undeniable.
I can say that I am fully satisfied with the result obtained thanks to the treatment of Géomer products. My hair is stronger, better lifted and it shows!
I strongly recommend to all people who, like me I was, are looking for a lasting solution in order to get out of this inevitable fatality, hair loss.
Watch the video of the testimony HERE>
Claudine Nicaise-Henriet6210 Les Bons Villers (Belgium)
Here are some photos evoking the words of Ms. Claudine Nicaise:


A question?
Or by Phone +33185089191