I confirm that the hair grows back
Joëlle Burquel hairdresser talks about the results with Géomer.
Click on the image to watch the video: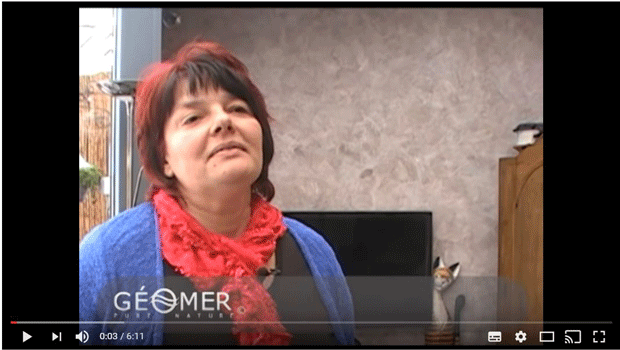 Alain Ledroit asks Ms. Joëlle Burquel for her opinion on the Géomer products that she uses in her hairdressing salon located in Fouches (Arlon Ardennes Belges).
Alain:
You are a hairdresser and you use Géomer products. What is your opinion ?
Joelle:
I have already been using them for 3 years. I had tried other brands either in shampoos or in care products.
When using, I had already felt something great. Whether it is shampoos or Géomer training courses.
There is dynamism in the hair with these products. The hold of brushings is much better.
Even when treating with clays (Terral Geomer) we notice tone in the hair and scalp. With results in hair loss and care against dandruff.
It is a complete range of treatments that I recommend to everyone because we have surprising reactions to the hair.
Alain:
Are these expensive products?
Joelle:
No, I find these to be affordable products. Because they are quality care products. So the price is right for me.
My clients give me positive feedback. They come back because they are products that work at 100%.
Alain:
Compared to all the other hair styling products you have ever used or tried. What exactly is the difference with Géomer?
Joelle:
In short, it is the energy that the product brings to the hair like toning. They are even used in aesthetics. With great results day cream, body care cream. We really have a nice complementarity between hairstyle and aesthetics that we do not find elsewhere.
I cannot part with it. Here !
They are also used in cases of hair loss. Whether it is deficiency drop or hormonal drop. In men, it is often hormonal. And have noticed a decrease in the fall and regrowth of new hair.
But the client needs to have discipline in their home care. And take the time to do your proper care to have a 100% regrowth guarantee%.
Alain:
In cases of dandruff, psoriasis, eczema, do you have results?
Joelle:
Yes in cases of dandruff, psoriasis, eczema and even alopecia areata. I have clients who have had alopecia areata. They used the clay mask (Terral Geomer) with the Phytogel Bio H. After 3 weeks, we had traces of fine duvets. the hair was back.
In terms of dandruff with shampoo .... I do not fall back on the name! Propolis shampoo. We had quite impressive results and effects after a 10-minute break, we really have a detachment of the patches of dandruff. Then the hair is very soft, very shiny.
Also at the level of the skin with the Propolis shampoo, it is put on the patches of eczema, psoriasis. And we get a detachment of the plaques as well as a soothing at the itching level.
Frankly in terms of care with shampoos, it is very effective.
There is the same seaweed shampoo which works great for fine, electric hair in the winter season. Fine hair regains more energy and vigor.
The products are concentrated. This is advantageous because you have to put in half as much. That if you buy a shampoo in a supermarket. We will use Géomer products twice as long.
The clients of my hairdressing salon notice (I repeat myself but it is really that) the energy of the hair, less the itching. All the anomalies that they had before with other products, with Géomer, they no longer have them at all.
My customers regularly come to buy Géomer products. And they even do full salon treatments. Which is beneficial for everyone.
Alain:
Have you ever seen such reactions with other brands of products?
Joelle:
To be honest, NO! I have used L'Oréal like many hairdressers. I used Indola,
But I had never seen such shine and hair energy with these brands that are unmatched by other products.
Alain:
Joëlle Burquel hair salon6700 Arlon Belgium
A question?
Or by Phone +33185089191