Is it possible to regrow hair? YES !
Written by :
Stephane Laugier66250 Saint-Laurent-de-la SalanqueFrance
Beginning of treatment
For a month and a half that I have been using Géomer products, I have obtained results that I did not expect.
I have a hormonal type of hair loss which started around the age of 25 (I'm 48). A recurring fall concentrated on golf courses and the top of the head.
To accompany this table, I also have a lot of oily dandruff ... And the scalp really inflamed and very sensitive on the areas of falls and a large part of the skull ... the top of the neck being spared.
Of course I have consulted dermatologists to try many anti-dandruff treatments as well as anti-hair loss ...
Results not very convincing because in the end and in both cases there are precisely no results ... (apart from new intolerances).
I discovered Géomer products on youtube with an explanatory video and I found the approach to care innovative because it is not aggressive on the scalp. I therefore established a treatment program on the advice of Mr Alain Ledroit.
Beginning of the week Yellow terral , Peeling gel , Propolis shampoo and Oligo F4 whatever the moment in case of irritation and itching during the week. Every evening of Phyto gel bio H in massage.
Well, frankly, I find the products to be used in a very pleasant way: the Yellow terral and the peeling gel can be applied with a small flat brush and the oligo F4 gels and organic phyto gel H by massaging the fingertips which undoubtedly results in a much better blood supply to the hair too ... :))
I affirm that when I wash my hair there are only 5 to 10 hairs left in the sink or the shower (before Géomer it was rather the style of 25/30 (and more) hair that fell out and all stages of their growth ...: ((
Now since I have been using Géomer, my hair is more resistant, thicker and the areas of the scalp are no longer sensitive and inflamed as before ... As well as for the much less present dandruff, they have disappeared ... I will start Regenorsil as soon as the fall is stabilized to help regrowth.
Here, I wanted to express myself on the subject because I know that it disturbs the daily life of many women and men. And I tell them to keep hope like me, the proof is Géomer.
Here are photos taken at the start of the Géomer treatment
I must admit that I had taken these photos not to testify but in case there had not been any regrowth, I would have sent them to Géomer to be reimbursed. But on the contrary, I won't need to ask for the refund since the results are there.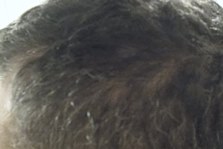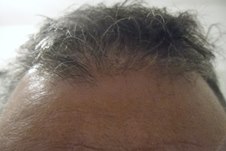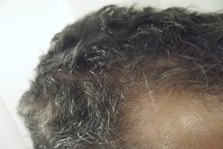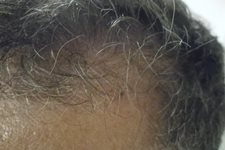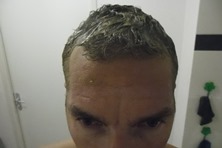 The price of the first treatment with anti-dandruff treatment included is € 104.95 for 3 months (French VAT price), ie:
Terral Yellow 250 ml = 34.95 €
Propolis shampoo 200 ml = € 16.50
Phytogel Bio H 200 ml = € 28.60
Oligo F4 100 ml = € 10.95
Total TTC (French VAT) = 104.95 € for 3 months = 34.98 € / month anti-dandruff treatment included
Further treatment (after 6 months)
As I explained, a few months ago, I have a hair loss of hormonal type, mainly concentrated on the gulfs, the top of the forehead and the back of the crown of the head. It is visible in the photos.
With in addition the fact that the areas of hair loss being inflamed with dandruff and sebum ...
I am 48 years old and I did not want to leave things as they are, as no care was suitable for me, I did some research on the internet and I found Géomer's approach interesting because the products and their fashion application is very gentle. (Read my previous testimony).
Following a telephone interview with Mr Alain Ledroit to take stock of my problem, he advised me to take the following products: Yellow terral, Peeling gel, propolis shampoo, Organic Phytogel H, and Oligo f4. So start of treatment around November 10th. I had completed a hair diagnostic questionnaire that I found on the first page of their site.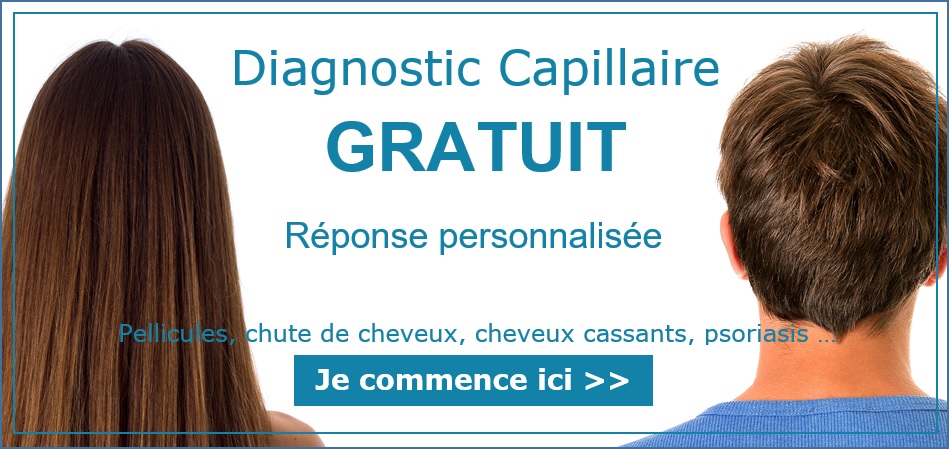 Then and in view of the results: disappearance of inflammation, dandruff, and much less hair loss.
Again a review with Mr Alain Ledroit to choose products adapted to the changes of season and situation: White terral, seaweed shampoo, energizing shampoo and the Phytogel Bio H.
There, it was around February 5 that I started this second treatment.
And now my hair is growing back. Even my hairdresser who knows me well sees my new hair growing back.
Today I continue this treatment. I am happy and proud to have my hair back.
I am attaching you before and after photos so that people who have doubts can form their opinions on the potential of Géomer products.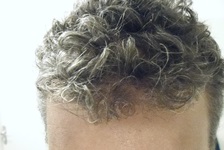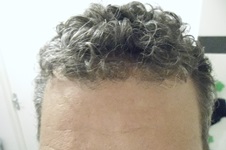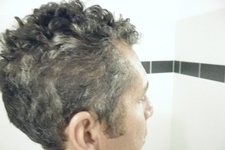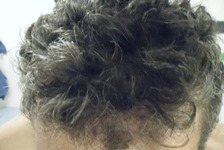 The price of the second hair regrowth treatment is € 80.05 for 3 months of treatment (French VAT price) or:
Terral White 250 ml = 34.95 €
Algae Shampoo 200 ml = € 16.50
Phytogel Bio H 200 ml = € 28.60
Total TTC (French VAT) = € 80.05 for 3 months of treatment = € 26.70 per month
Need advice? ASK YOUR QUESTION HERE
Phone at +33185089191